As you celebrate Thai Pongal with your family and friends, with a lot of fervour and cheer, the Jaffna Hindu Web Team extends its warm greetings to all Jaffna Hindu old boys, teachers, students and well wishers, with a world of good wishes for every joy and happiness. The Jaffna Hindu Web Team takes pleasure in introducing its new database 'Kerni,' kerni.jaffnahindu.org on this auspicious day.(www.ekerni.com)
The significance of Tamil cultural festivals in uniting or reuniting family members and friends is paramount. Thai Pongal is one such festival day that families gather to rejoice and share their joy with others. Thus, the Jaffna Hindu Web Team has chosen this special day to launch 'Kerni,' a new database portal for Hinduites that will surely add value in unifying and building a strong bond among our Hindu community.
Though,  now many of our old boys and past teachers live away from our motherland, on festival days everyone of us glorify the memories of our good old days that were filled with happiness and cheer and eager to meet or hear our childhood friends.  We wish 'Kerni' will come your way to help trace your friends and share the memories of those joyful days.
Creating a unique database portal for the Jaffna Hindu community is a long time wish of our web team. The idea was incubated only in our minds for long due to financial and time restraint. Finally our idea has hatched and we are proud to hand that over to our Hindu community. We are sure that the database 'Kerni' is going to be a link in rebuilding our friendship and reuniting all of us under one umbrella 'The Hinduites.'
Kerni is definitely going to be a very powerful tool for networking Jaffna Hindu Community. The idea to develop a database portal ignited from a very ambitious hope of uniting all Hinduites and to help find lost friends, renew friendship, and to build an information empire for Hinduites.
 With Kerni you can easily find your friends anywhere in the world. It is an amazing and easy to use tool to search our childhood friends; from Kinder Garden pals to high school colleagues. Not only that you can use the tool to search and renew friendship with your schoolmates and village mates, be in touch with your teachers, both past and present.
The search is made easy and powerful in this information portal, helped by many search criteria.
'Mathil' is another feature inbuilt in Kerni; you can use Mathil to post comments to individuals or for a selected group or common to all. Mathil was added to this portal in order to make this portal more vibrant, to go beyond mere database. Mathil will help to share useful information with the community, get career guidance, advice on employment and many more. It is an open platform to discuss any issue that will be helpful to develop our community.
 
The Jaffna Hindu Web Team believes this as the first intelligent information portal among secondary schools in the world. With all your active involvement this can be made a very dynamic portal and can be a backbone in uniting the Hinduites. Please register yourself in the database and be part of our Hindu community, and let every Hinduites know about it; invite your friends to join.
Please register here:  http://www.ekerni.com or  http://kerni.jaffnahindu.org
The Web Team,
JaffnaHindu.Org
Message from the Principal, Jaffna Hindu College: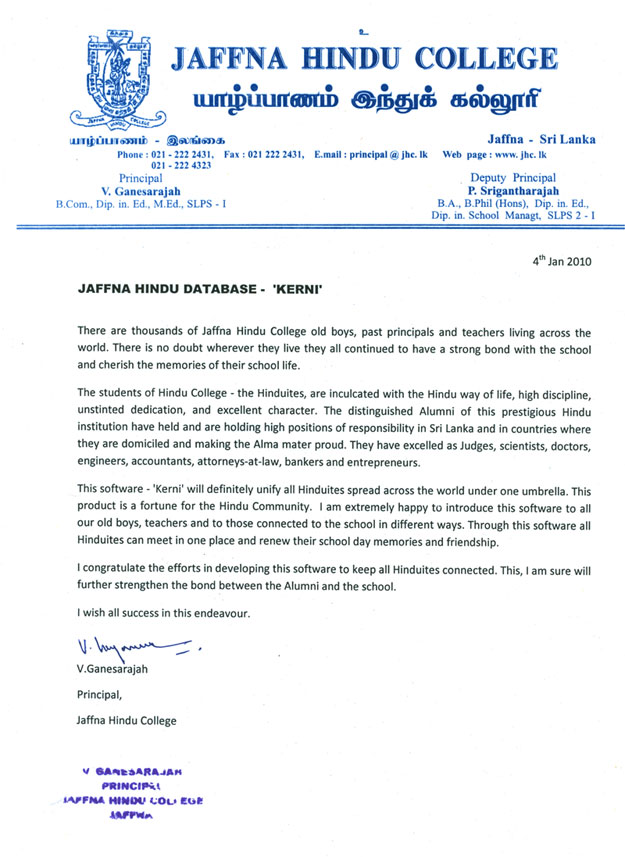 Message from the President Jaffna Hindu OBA-UK: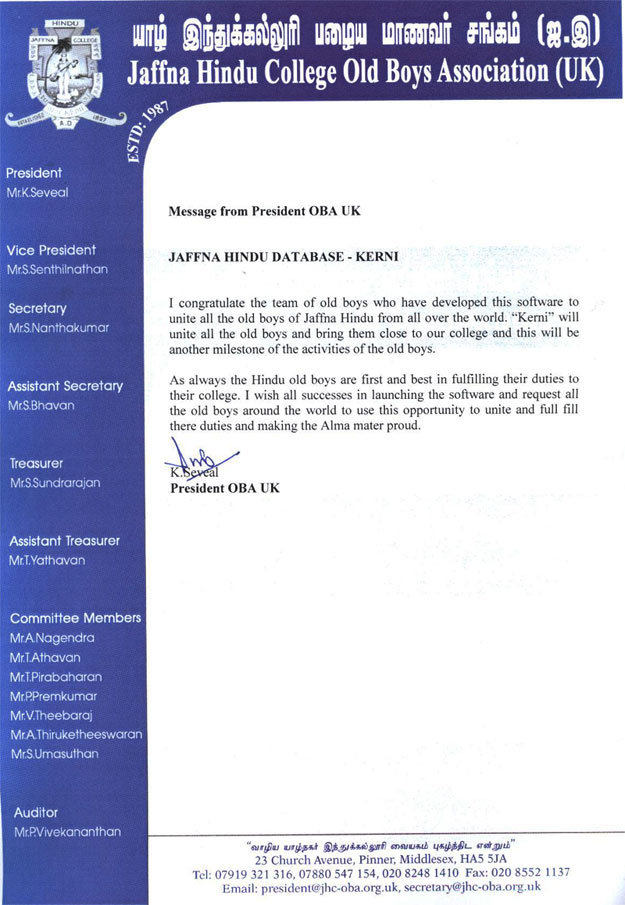 Message from the President Jaffna Hindu Alumini Association-USA:
Message from the President Jaffna Hindu College Association-Canada: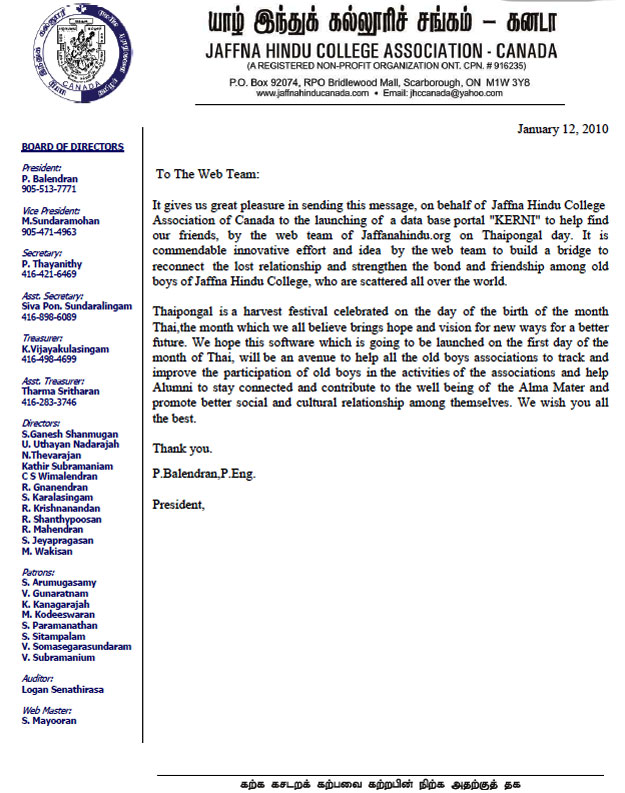 Message from the President Jaffna Hindu OBA-Australia: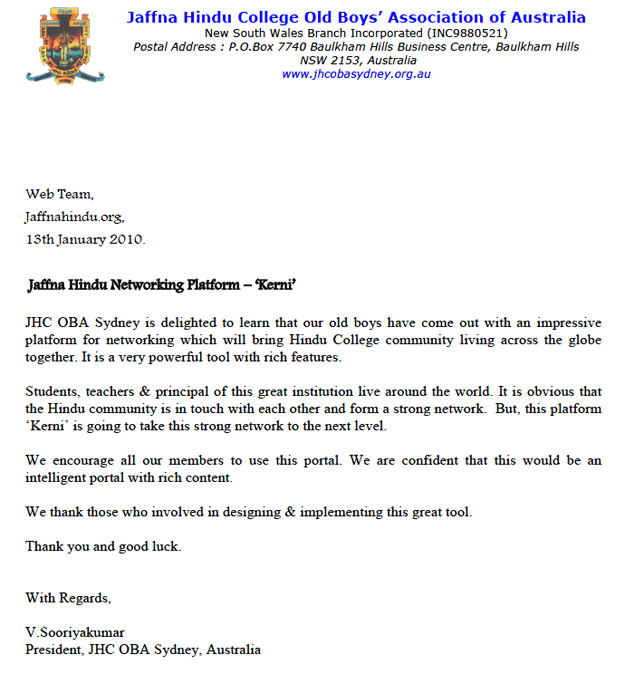 Message from Mr.V.Sivasupramaniam - Retired Teacher - Jaffna Hindu College: